ELTE Library webapp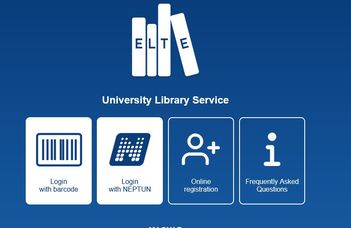 Our webapp for mobile devices, , offers a number of additional services in addition to being able to redeem a paper-based reader's card. It provides information about the documents on loan, provides an opportunity for extension.
Thanks to its notification function, it indicates, based on the user's settings, if, for example, a document requested from storage can be received or if the expiration date of a borrowed book is approaching. If you visit the library in person you can also borrow books without having to hand over the device to the librarian.
As of August 24, 2020, new features have been added to the application. Online enrollment has become available.

Login to the interface
Login to the interface with Neptune code and password.
After logging in, you must select the ELTE PPK Library to register as a member library. The email received upon successful registration requires confirmation of the email address. Then, within 1 working day, the librarians approve the library membership of the ELTE citizen with legal status.
The web application is available on all mobile devices through their browser at konyvtar.elte.hu/app.