Research and Education in Addiction Science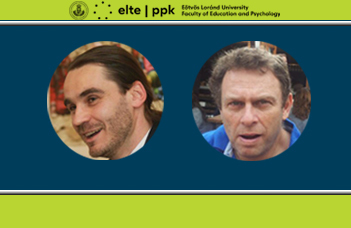 20. September 2019. 16:30
ELTE PPK KAZY AULA (1075 Budapest, Kazinczy utca 23-27.)
2019. September 20. 16:30 -
ELTE PPK KAZY AULA (1075 Budapest, Kazinczy utca 23-27.)
---
Mini Conference in English
Location: ELTE PPK aula
Date: 2019. szeptember 20. 16.30
Programme:
Aviv M. Weinstein, Ph.D: Chronic use of synthetic cannabinoids is associated with impairments in cognitive function, brain's structure and function, and comorbidity with depression and schizotypal personality disorder
Michal Miovský, Ph.D: New opportunities in academic education and trainings in addictions: an unexpected challenge for psychology
The conference is hosted by Demetrovics Zsolt, professor, ELTE PPK
About the speakers:
Aviv M. Weinstein, Ph.D is Professor of Psychology at the School of Behavioral Science in Ariel University in Israel. He established a laboratory for brain imaging in drug addiction in the Departments of Nuclear Medicine at Sourasky Medical Center in Tel Aviv and in Hadassah Hospital in Jerusalem Israel. He published more than 80 articles and book chapters on substance use and behavioral addiction.
Abstract
There is an increasing use of synthetic cannabinoids that is raising major health concerns worldwide. We have investigated whether chronic use of synthetic cannabinoids is associated with alterations in the brain's structure and function in fMRI. Synthetic cannabinoid users exhibited overall smaller grey matter volume than control participants, and in brain regions that are associated with addictive behaviors, cannabis use and abstinence. Secondly, SC users showed impaired performance on the N-back task and mental flexibility. SC users were more depressed, had higher scores of schizotypal personality disorder and were more introverted, neurotic and less conscientious compared with regular cannabis users and control participants. (Financial Support: National Institute for Psychobiology in Israel)
Prof. Michal Miovský, Ph.D: Professor of Clinical Psychology at Charles University, Prague (Czech Republic). He established a therapeutic center for drug users in his home town, Brno, and lead group teratments himself. He is Vice-Dean for non-medical health study programs and Head Department of Addictology at the 1st Medical Faculty, Charles University, Prague and General teaching Hospital in Prague. He took the lead in establishing the bachelor, master level and postgraduate addiction study programs at Charles University, Prague.
He is past-president of ISAJE (International Society of Addiction Journal Editors) and Deputy Editor-in-Chief of the Journal of Adiktologie. He is president of the International Consortium of Universities on Drug Demand Reduction (ICUDDR). (For more details: www.adiktologie.cz https://www.researchgate.net/profile/Michal_Miovsky)
Abstract:
A fascinating, almost 150-year-long process has resulted in the development of the institutions dedicated specifically to addictions. Specialized academic study programs leading to a degree have emerged just recently. At the same time, discussion have started on the professionalization of the workforce in prevention and treatment services through training and bridging the gap between science and practice. The International Consortium of Universities for Drug Demand Reduction (ICUDDR) is a newly established (2016) global consortium of universities which offer graduate and postgraduate study programs specifically focusing on the transfer and adaptation of science-based knowledge regarding the prevention and treatment of alcohol and other substance use disorders. The ICUDDR (www.icuddr.com) provides an opportunity for universities and institutions of higher learning to share their expertise as well as to support instructors/faculty, trainers, and students in their learning and adoption of the science of substance use disorders.
Registration
here
.