The website of the ELTE University Library Service has been renewed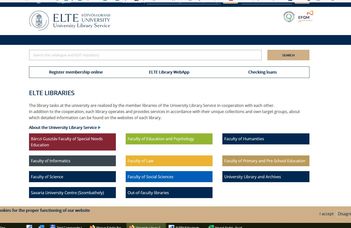 The website of the ELTE University Library Service has been renewed
From June 2, 2021, the common interface of the ELTE University Library Service will appear with renewed content and appearance. The new website fits in organically with the image of ELTE.
The services, news and contact details of the member libraries can be found under the ELTE Libraries menu item. On the recent EKSZ website, we will continuously report on the joint tasks and results.
The provision of library tasks at the University is carried out in close cooperation with the Faculty Libraries. Detailed information about the individual operation of the member libraries, their collections and services can be found on the pages of each Faculty Library.
The member library page of the ELTE PPK Library is available at the link below.