A unique Swiss book donation to the PPK library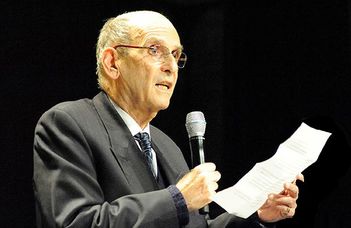 André Haynal's collection of books and journals consisting of nearly two thousand volumes was donated to the ELTE PPK Library by the family of the world-famous psychoanalyst and psychiatrist of Hungarian origin. The legacy from Switzerland includes works processing the work of Sigmund Freud and Sándor Ferenczi.
André Haynal (András) is a psychoanalyst-psychiatrist and neurologist, former head of department at the University of Geneva, president of the Swiss Psychoanalytic Association, honorary member of the Hungarian Psychoanalytic Association. He was born in 1930 in Budapest, he completed his university studies in Budapest and Zurich, but much of his work can be attributed to his stay in Switzerland. The specialist built his psychological library throughout his Swiss life, which became his most valuable asset. He collected separately books on Sándor Ferenczi and Sigmund Freud, whom he paid special attention to.
The professor considered it important to share his knowledge with his Hungarian colleagues, so after his death (2019) his collection was donated to the Faculty of Pedagogy and Psychology of Eötvös Loránd University by his widow, Véronique Haynal and his children. The legacy came to the faculty in cooperation with the Hungarian Psychoanalytic Association.
The processing of the nearly 80 boxes of books has been started by the library staff, and they will be able to provide access to it according to the extent of the processing after the epidemic situation has ended. The Haynal Collection is scheduled to open to the public within a ceremony.