Innovative idea to support social entrepreneurship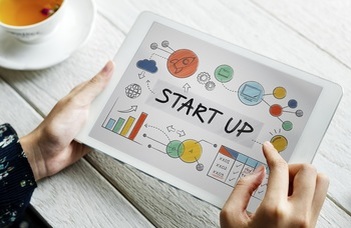 Nearly 180 ELTE students have successfully completed the first semester of the Hungarian Startup University Program (HSUP), which aims to introduce students to the modern entrepreneurial world. One of the 10 best ELTE ideas selected at the end of the semester was the social entrepreneurship project of Viktória Zsirai, a student at the PPK.
Launched by the National Research and Development Office, HSUP is the country's first online university startup training programme, aimed at introducing students to the world of innovation. Nearly 180 ELTE students have successfully completed the first semester of the two-and-a-half-year course. At the end of the semester, the students had the opportunity to apply for funding for their ideas by developing a "one-pager". In the spring semester, the students will work in teams to develop the best projects.
Viktória Zsirai, MA student of Social Inclusion Studies at ELTE PPK, project 'Helpful shopping - A common platform for social enterprise products' focuses on social enterprises that produce products for the population and employ people who are disadvantaged in some way - people with a different work capacity or low socio-economic status.
People interested in the Good Cause will be able to find out about the work of the organisations and buy their products on the Consciously Good website, a news portal and webshop. The planned webshop will offer a wide range of handicraft products from social enterprises - textiles, furnishings, chocolate specialities, jams, jewellery.
In response to our question, Viktória Zsirai said that she started to search for these businesses during her thesis research. "I was surprised how many there are that I hadn't heard of. I thought it would be good if more people got to know about these organisations and their products."
Developers pay particular attention to community building. An important goal is to make more people aware of the existence and functioning of social enterprises. "If we succeed in building and gradually expanding a community that consciously seeks the products of such organisations, it can improve the perception and opportunities of people with disabilities," says the project's promoter. He added that the project also aims to engage people who may not have thought about it before - so they want to reach out to those who are already open or who can be made open to such purchases through the stories they tell.